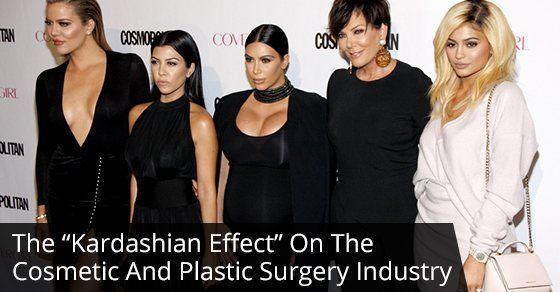 The "Kardashian Effect" On The Cosmetic And Plastic Surgery Industry
From fillers to Brazilian butt lifts, the "Kardashian Effect" is taking the plastic surgery industry by storm. Kim Kardashian and her youngest sister Kylie Jenner are behind some of the most recent trends in cosmetic surgery, and there's a good reason why. Both women have undergone major transformations over the years, causing them to become cosmetic surgery trendsetters.
What Is the "Kardashian Effect"?
The Kardashian Effect is a loosely defined term that refers to the rise in certain cosmetic procedures such as Brazilian butt lifts. The Effect also refers to the before and after because we have photographic evidence of what Kim and Kylie looked like prior to having their procedures done and post-op. We can see their transformation and how good and confident they look with fuller lips and more rounded backsides. But, the "Kardashian Effect" doesn't stop with Kim and Kylie. Matriarch Kris has also had work done and appears much younger than her 61 years, inspiring older generations of women to get face and neck lifts, and injectables like Botox.
Why are Brazilian Butt Lifts on the Rise?
The most popular Kardashian-inspired cosmetic surgery is the Brazilian butt lift. Rising to popularity only a few years ago, the surgery has helped women and men across the world get the shapely backsides they've always dreamed of. Kim and Kylie are both rumoured to have undergone this procedure, and if you examine their photos on social media, it's hard to deny that Brazilian butt lifts are probably what's behind (no pun intended) their perfect bottoms.
Are the Kardashians Helping or Hurting the Industry?
There are many benefits to cosmetic and plastic surgery that the Kardashians have helped highlight. For instance, Brazilian butt lifts can help correct sagging skin in the posterior area and create a more shapely and well-rounded figure. As for lip implants and injections, besides making the lips fuller, they can also help stave off wrinkles around the mouth. Moreover, cosmetic and plastic surgery can restore self-confidence, correct defects of the nose (rhinoplasty), remove excess skin and tissues after extreme weight loss, and help moms feel good about their post-baby bodies (mommy makeover).
No matter what Kardashian-inspired cosmetic procedure you are looking to get done, make sure you have realistic expectations.