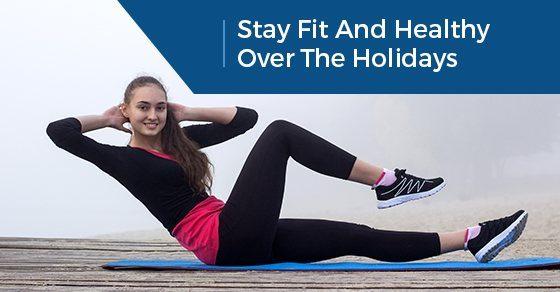 How To Stay Fit And Healthy This Holiday
While the holidays are often fun-filled, many of us end up on the other side feeling a little overindulgent. The holidays are a time for eating and drinking, and while you shouldn't restrict yourself, there are definitely ways of striking a balance when it comes to indulgence and health, so you will feel less poorly once the festive season has passed.
Here are some tips for staying fit and healthy this holiday season, both mentally and physically!
Charge Up!
The holiday season is the time for rich meals. Prepare for some seasonal overeating by balancing your diet. If you know you're in for a big, festive lunch or dinner, maybe start your day with a healthy, light breakfast like a green smoothie or porridge. Or, if you've had a heavy holiday lunch, maybe end the day with a light dinner such as a salad or grilled vegetables. Make sure you're balancing the naughtier parts of your holiday diet with something nice.
Stay Hydrated
The holidays often come along with a lot more booze, and we all overindulge once in awhile. Drinking plenty of water will help you combat some of the negative effects of alcohol, such as the inevitable hangover!
Be Active
Colder weather often keeps up cooped up inside. Try to find fun winter activities to keep yourself active. Here are some top exercises for your glutes. As a bonus, many of these activities are fun for the whole family and let you experience some of the holiday togetherness. Snowshoeing, skiing, skating, tobogganing, or maybe a snowball fight are all fun for the whole family and are great for keeping you fit and healthy!
Treat Yourself
Maybe the holidays are a more restful time for you. Take advantage of your time away from work by treating yourself to something that's just for you. Perhaps there's a cosmetic procedure you've been thinking of getting done for a long time, like a breast augmentation. At Cosmedical, we offer breast augmentations along with lots of other procedures that boost your self-confidence and happiness! Perhaps it's time to give a gift to yourself!
Get Some Rest
It's easy to get carried away in all the holiday fun. Keep yourself mentally and physically healthy by remembering to take some downtime and rest. It's okay to hibernate a little during the holidays! By getting enough rest over the festive season, you can start the new year rejuvenated and ready to face any challenges that come your way.
If you need some help to rid yourself of the extra pounds you've put on over the holidays, try SculpSure. It's a great way to melt away fat.