What is the Recovery Time of a Tummy Tuck?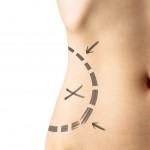 Abdominoplasty, also known as a tummy tuck, is a surgical procedure to improve the appearance of the abdominal area by removing excess fat and skin and tightening the underlying muscles. It is a popular procedure, particularly after pregnancy or significant weight loss. The goal is to improve the contours around the patient's waistline and produce a flatter, more toned stomach. This treatment is often combined with liposuction for greater aesthetic results by removing stubborn pockets of fat and tightening the muscles and skin, often loosened by pregnancy.
A good candidate for a tummy tuck is anyone in good overall health between the ages of 25 and 60. Patients should be at a stable weight less than 30 pounds above their ideal weight before having this surgery performed as future weight loss or weight gain will affect results. Any patients planning to gain or lose significant weight or women planning on pregnancy are not usually acceptable candidates for this procedure.
Abdominoplasty is one of the most complex cosmetic surgeries available. The process itself can take between 2 and 5 hours to complete and is performed under general anesthetic. There are four types of tummy tucks currently available on the market today:
1. Traditional Tummy Tuck: Performed by making an incision that runs from hip to hip and allows the surgeon access to all abdominal tissue, a traditional tummy tuck is a major surgery with significant recovery time.
2. Mini-Tummy Tuck: This procedure requires a much smaller incision and has a shorter recovery period but limits access to abdominal tissue; therefore it is only recommended for patients whose undesirable fat is located under the belly button.
3. Extended Tummy Tuck: This procedure extends the treatment area to the sides and removes excess fat from the area known as "love handles". Recovery time is similar to that of a traditional tummy tuck.
4. Circumferential Tummy tuck: Also known as a Belt Lipectomy, this involves removing skin and fat from the front and back, not only improving the abdomen but also smoothiening out the side s, back and pulling up the buttocks and legs.
Recovery Time
Each patient will heal on their own time but there are some general guidelines for when they can expect to be back on their feet and performing simple tasks around the house. Younger patients who are in good health can expect to recover more quickly and with less likelihood of complication than patients with chronic health problems. Smoking is discouraged as it has been associated with increased risk of complication during the healing process.
Immediately following the procedure, patients can expect to experience pain, swelling, and discomfort as with any major surgery. Most patients are allowed to return home on the same day provided they can arrange a ride. Once home patients are instructed to spend several days in bed, avoid stretching or strenuous activities of any kind, and follow the surgeon's after care instructions. Patients will require assistance from a friend or family member for the first several days to one week.
In most cases it will take around 3 weeks for most of the swelling, redness, and bruising to dissipate but full recovery will take as long as 2 months or more. It is highly recommended to take 2 weeks off of work and limit strenuous activity of all kinds for at least 6 weeks to allow the body to fully recover.
Mini-tummy tucks may take less time to heal but patients should remember to limit activity during the first 2 weeks of recovery time. By one month after treatment, many mini-tummy tuck patients are able to engage in most of their regular activities.