Tummy Tuck: What is Abdominoplasty?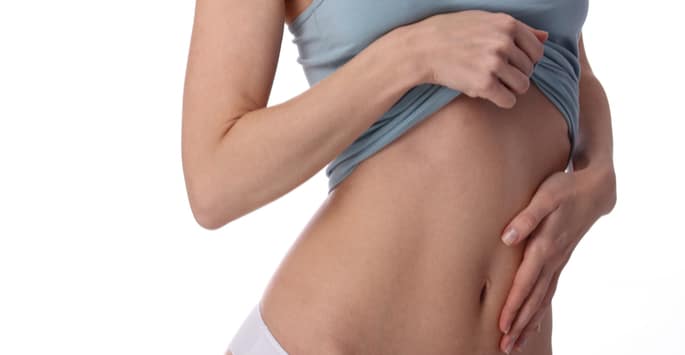 An abdominoplasty is commonly referred to as a tummy tuck. It's a procedure that involves surgically removing excess fat and skin from the abdominal area. It's a type of cosmetic surgery that's normally intended to target fat buildup, help tighten stomach muscles, and improve overall abdominal appearance. For instance, women with skin that's looser due to pregnancy may benefit from this procedure, as might individuals not able to get rid of stubborn abdominal fat deposits with diet and exercise efforts alone. 
What Happens After a Tummy Tuck?
After the procedure is complete, patients are often advised to wear a compression garment for a brief period of time. It can also be helpful to wear loose-fitting clothing to avoid irritating the incision sites. It's also important to avoid strenuous activities and movements, especially anything involving abdominal strain and pressure. The ability to return to work will depend on how strenuous your job is. The total recovery period can range anywhere from a few weeks to a few months.
What Results Can You See?
Most patients who have an abdominoplasty are able to see results right away since the fat is removed and abdominal muscles are made tighter. This usually means a flatter, more toned stomach area is clearly visible. As for how long results may last, this will depend on your commitment to maintaining sensible diet and exercise habits. If you do this, you'll be more likely to enjoy long-term results.
Am I a Good Candidate for the Tummy Tuck?
Anyone wishing to tighten up their abdominal area and achieve a slimmer frame may well be eligible for this procedure. According to the American Society of Plastic Surgeons, preferred candidates for an abdominoplasty have a stable weight and are generally healthy individuals without serious underlying medical issues. It's also important to have realistic expectations about possible results.
Get In Touch with Us for More Information
To determine if a tummy tuck is right for your needs and personal goals, we warmly encourage you to reach out and make an appointment with Cosmedical Rejuvenation Clinic! At our convenient location in Toronto, our caring and devoted team of professionals will be pleased to explain this process in greater detail, answer any questions you may have, and help you achieve your unique aesthetic ideal. Contact us today to set up your consultation – we look forward to speaking with you!