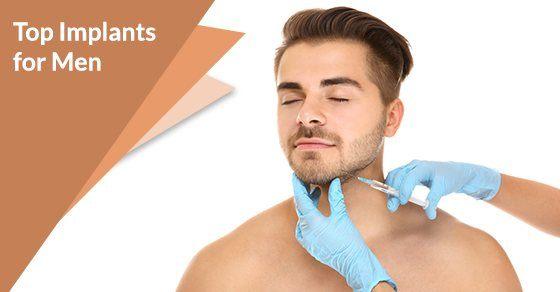 Top Implants for Men
There is a common misconception, or stereotype, that women are the only patients who can benefit from cosmetic surgery. Many men are reluctant to consider cosmetic implants as they worry it will be too noticeable, or cause unwanted criticism. However, with more advancements in cosmetic surgery each day, implants are becoming more and more sophisticated, and many men are learning that they too can enjoy the benefits of cosmetic implants. In fact, it's become one of the top procedures for men.

Here are some of the most common implants for men:

Pectoral Implants: Many men want a defined, well-shaped chest. Depending on your body type, this may be attainable through exercise and weight-lifting, but for some men, no matter how hard they try, they are still unhappy with the appearance of their chest. Pectoral implants give your chest a toned, muscular, and defined look that can dramatically improve your appearance, and confidence. Pectoral implants can also help those who may have an injury or deformation that affects the appearance and shape of their chest.

Calf Augmentation: Calves are another area that sometimes, despite the amount of exercise done, remain underdeveloped. Many men feel self-conscious about have "scrawny" legs. Calf implants can come in a variety of shapes and sizes, and are customizable to you. They will enhance the look of your calves, giving them a shapely, muscular appearance.

Butt Implants: Butt implants are not just for women! Many men these days also want a toned, shapely posterior. A flat, or underdeveloped butt can negatively affect your self-confidence. Men are turning more and more to butt implants to get a perky behind!

Chin Augmentation: A weak or undefined chin is a genetic trait, and completely out of our control. Chin augmentation is a safe and easy surgical procedure that will give you a defined, masculine chin and jawline. This procedure can also be used to sculpt or correct the appearance of a double chin.

Penile Implant: A fairly new procedure, male penile implants are used to combat erectile dysfunction. There are many ways erectile function can be lost, such as illness, injury, and ageing. While drugs like Viagra exist to help men with ED, they don't always work for everyone. This new penile implant technology allows the penis to become erect, and return to flaccidity, which can be life-changing for men who suffer from ED.

If you are considering any of the implant options above, contact Cosmedical today to arrange a consultation.