Six Great Exercises To Do After A Tummy Tuck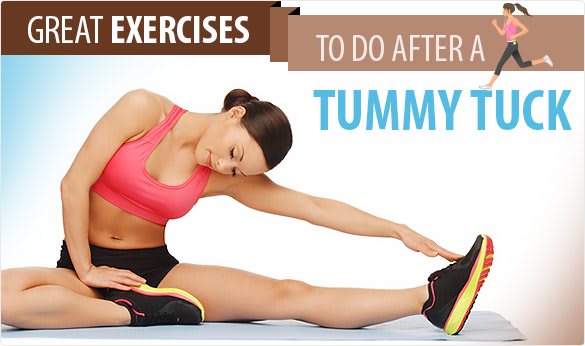 A tummy tuck reduces excess skin and tightens the abdominal girth, and clients can take steps to maintain a toned abdomen. The steps to regain a taut belly is the same for athletic women and those who are new to active lifestyles. They key is to start early and be persistent.
The timeline begins as soon as a few weeks after surgery. During the recovery period, it is crucial to put your own health as the priority. Pushing yourself too hard or rushing for immediate effects is not recommended. Recall your original reason for choosing the surgery and affirm that you're doing this for yourself. You should wait at least 6 weeks before attempting strenuous exercise.
The first week should involve very little physical activity. The following weeks, up to the 6th week is reserved for walking. Halfway through the period, you may increase your activity to walking at a brisk speed or even low impact aerobics. The soreness from surgery will decline, and the exercise will help with healing and feeling better. Hopping on the exercise bike for low intensity activity is also beneficial to the body. Spin classes are certainly out of the question at this stage.
During weeks 6 to 8, all types of aerobics are acceptable. Running outdoors or on the treadmill is a great way to work your way up to higher levels of activity. By this time, you will have healed enough to start swimming. The spin classes that were out of reach in the weeks before are now available to you.
After 2 months, you will have recovered enough to start conditioning your body with light weights. Do not start a rigorous weight training program until the 3rd month. The muscle definition that you see on women who exercise will come to you through weight training. Core strength is an important part of balancing the muscles you develop.
Some examples of core exercises to tone your tummy are:
Knee fold tucks
Climbing the rope
Side balance crunch
Circle plank
Sliding pike
Oblique reach
It's important to rotate the exercises you do as you'll challenge the muscles to work in a different way. A trainer may recommend that you choose three different types of core exercises each time you weight train and perform 3 sets of 12-15 repetitions. Wait a few minutes between each set to allow your body to rest.