Juvederm vs. Other Fillers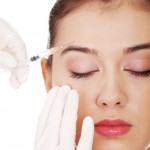 As we age, the face the goes through many changes. Wrinkles, crow's feet and fine lines appear. The face may also lose volume and the skin may start to sag. Our face is the first thing that people see, so having wrinkles – especially at a young age – can make a person self-conscious. They may even be afraid to attend social functions and meet new people because of their appearance.
Fortunately, there are many options available to help women rejuvenate their face. Fillers – which involve injections of gel and other substances – can fill in wrinkles and restore volume without having to go under the knife. Juvederm is one of the easiest ways to accomplish this, but there are many other fillers on the market as well.
Juvederm
Juvederm is a substance similar to gel. It is constructed of hyaluronic acid, which is created in our bodies naturally. We inject it under the skin and the effect is almost immediate. Depending on the severity of the wrinkles and volume loss you are experiencing, there are different densities available. We will consult with you to help you choose the right one.
Juvederm can be done on various areas of the face. It's a good choice for those who desire fuller lips. It's also ideal for fine lines around the mouth and can also be sued to make cheeks, temples and eyebrows fuller in appearance. Juvederm is often used with other procedures such as Botox.
Other Fillers
Cosmedical Rejuvenation Clinic offers other types of fillers as well. Perlane and Restylane are good choices for those suffering from aging around the eyes and mouth. They also use hyaluronic acid to create immediate effects.
Revolumizers are ideal for those who have sunken areas on their face, such as in the cheeks. Sculptra and Bioalcamid are commonly used as fillers to combat fat loss in the face.
Botox was the one that started it all. Botox injections weaken facial muscles, causing wrinkles to soften or even disappear. It lasts 3-4 months and is very safe.
For something more permanent, look to Artensense. This is currently the only permanent filler available in Canada. It contains collagen that surrounds poly methyl methacrylate (PMMA) beads. Because these beads are permanent, Artensense lasts many years, unlike other fillers.
Use Fillers to Gain Youthfulness
Wrinkles and fine lines can make a woman look years older than her true age.Cosmedical Rejuvenation Cliniccan help women regain their confidence without invasive procedures.Contact us at (647) 931-6362 to learn more about Juvederm and other fillers available.