How Long Do The Results Of Thread Lifts last?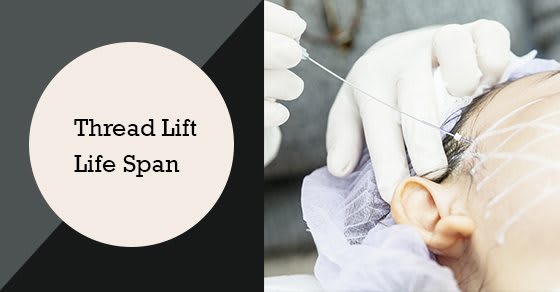 Thread Lifts are a newer trend in cosmetic enhancements that has been popular in Europe for several years. A thread lift is an innovative solution that improves a face's appearance with tiny incisions, un-intrusive methods and decreased recovery time.
It is a cost-effective and easy procedure, but does not last forever.
Despite their new popularity, thread lifts are not a surgeon preferred option. When it comes to dealing with facial wrinkles and imperfections, injectables like Botox and even traditional methods like face lifts are preferred.
If you're still interested on learning more about thread lifts, this article will cover the bases of what they entail and how long they last.
The Thread Lift Procedure
Thread lifts use small incisions hidden behind the ears. A small amount of skin and fat is then removed, similarly to a facelift.
The face is then pulled with thread sutures that run under the skin. These threads remain to hold the skin in place. This allows for smaller incisions, faster recoveries, and less pain.
What is the Timeline of a Thread Lift?
With a traditional face lift, the full effects are not observed until after about six months. It takes over a month just for the swelling to subside.
By contrast, a thread lift's full effects are already on display at the one-month mark. The incisions will have healed, and due to the minor nature of the surgery, very little swelling will have occurred.
After that, thread lifts will wear off over time as the skin stretches back. Simply not enough tissue was removed for the face to fully settle in to a new appearance. Depending on the individual, the effects will no longer be noticeable in 6-30 months, with the average time being around 21 months.
The threads are invisible and tiny. They never need to be removed, unless you later opt for a full face lift. Removing them is even less invasive than implanting them.
Making Thread Lifts More Effective
Thread lifts last much longer when used in combination with fat transfers. When used in combination, both effects will last 30 months or more.
What to Do After a Thread Lift Wears Off?
The threads can remain for as long as you want. If you'd prefer, they can be removed through a similar process to the way they were put in: small incisions and local anesthetic. They will also be removed as part of any permanent facelift, as the surgeon will want to re-sculpt the tissue.
If you're looking to improve your look in a more thorough way than thread lifts can provide, the professionals at Cosmedical Rejuvenation can help! Book a consultation today to see what we can do to help you regain your youth.