At What Age can a Woman Undergo Breast Reduction?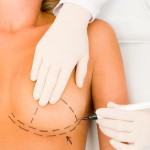 Although a majority of women who undergo breast surgery do so in order to increase their breast size, many women choose breast reduction instead. These women have large, heavy breasts that can be uncomfortable and even cause medical problems. Reduction surgery helps the breasts become a more manageable size increasing a woman's self-confidence. At what age is a woman a good candidate for this type of surgery?
The Ideal Age
The breasts may continue to grow for a number of years, so the ideal time is when the breasts have stopped growing for six months or longer. For many women, this is at age 16. Breast reductions are performed by many surgeons at this age. However, in order to have it done at such a young age, a girl would need a signed parental consent form. Dr. Kesarwani likes to meet with the patient and her parents and only considers breast reductions in women this young if they have massive breasts and if he confirms their breasts are not still growing for a period of six months.
By the age of 18 a woman's weight and hormones have stabilized, resulting in less further changes to breast development. By this time, the woman has reached adulthood and is of legal age to make her own decision as to whether or not breast reduction is the right option.
Another thing to think about is that breasts can grow during pregnancy and breastfeeding. Some women may wish to delay breast reduction until after they are done having children.
What to Consider
Before making the decision to undergo breast reduction, it is important to meet with a plastic surgeon to first discuss the procedure. The process involves removing fat tissue and excess skin, which will leave incisions. In addition, reduction surgery may rarely cause women to lose some sensation in their nipples.
Be sure you fully understand the risks involved and have realistic expectations. Dr. Kesarwani will present you with all the facts and alternatives that are specific to your case.
Breast reduction will make the breasts smaller, closer to the body, less sagging and much more comfortable.
Is Breast Reduction Right for You?
If you are uncomfortable with the size of your breasts or are suffering medical problems due to their size, then reduction may be a viable option. Dr. Kesarwani at Cosmedical can help you determine the optimal breast size for your body. Contact our office today.